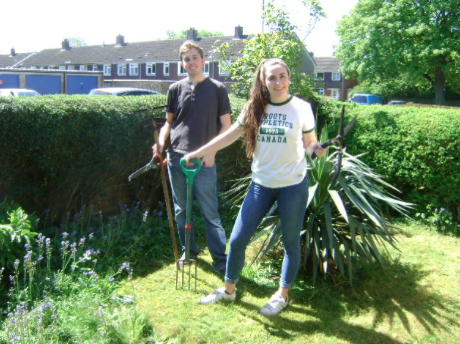 Good Neighbours Gardening
Good Neighbours help out local older or lesser abled residents in the Oxford community by sharing a cup of coffee and tending to their gardens. A little kindness goes a long way!
We also help tend to community spaces, and have helped maintain a number of inpatient gardens at the Churchill hospital. All tools and gloves are provided, and no gardening experience is required - the team will be there to oversee the work.
Once you sign up to become a Good Neighbour, you'll be added to the mailing list. We will then be in touch with times and dates that we have sessions coming up. These are roughly every other week during the warmer months, and monthly during winter.
You can sign up for sessions as and when they suit you, so commitment is flexible. Sessions take place on Saturday mornings, meeting at 10.15am outside the East Oxford Community Centre, and lasting for around two hours. You will then be given a lift over to the location where you'll be volunteering.
✔ This opportunity is open to local people and students.
✔ You can volunteer on this project if you have a disability. If you would like to, you can fill out the Accessibility Requirements form on the volunteer application and let us know what we can do to support you.
✘ Not all Good Neighbours Gardening sessions are wheelchair accessible, because they take place at people's homes. However, the sessions we do at local hospital wards are wheelchair accessible.
✔ You can take part in this opportunity with a carer or support. If you require support when volunteering, get in touch and we can match you with a volunteer supporter.
Oxford Hub is committed to making our activities inclusive to all volunteers. We will make reasonable adjustments to application processes, training sessions, volunteering projects and other activities, and we pay back volunteer expenses such as bus tickets. We also provide ongoing support for the volunteers we work with, so if you have particular accessibility needs, including special educational needs, you can fill out the Accessibility Requirements form on the volunteering application and let us know how we can help. Please email lizzie@oxfordhub.org if you have any questions.